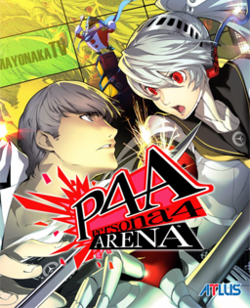 Who Did It Better? Persona 4 Arena Or Jojo's Bizarre Adventure
Persona 4 Arena and Jojo's Bizarre Adventures are two great fighting games available in the market today. They present a new fight that is between the Personas vs. Stands.
Persona 4 Arena was developed jointly by two major gaming heads, Arc Systems Works and Atlus mainly for Xbox 360, PlayStation 3, and arcades.
Persona 4 Arena is an immediate sequel to a title that was released in 2008 known as 'Shin Megami Tensei: Persona 4, and even features some characters from the previous title Shin Megami Tensei: Persona 3. Persona 4 Arena made its first debut in Japanese arcades in 2012, March, and later was made available globally for Xbox 360 and PlayStation 3 in July and August of 2012.
In this game, the two gaming powerhouses that were charged with the production work had to share a certain responsibility to make it a success. Arc Systems Works, for instance, handled the gameplay while Atlus ensured that the story was the best to be seen in the gaming world.
This great coordinated collaboration made this game the success it turned to be, an addicting anime like fighting game. As a result of that, Persona 4 Arena will go down in history as one of the games that sold almost all its records within the first week of its release.
Jojo's Bizarre Adventure, on the other hand, was released for the first time in the year 1998 on an arcade system known as CPS-3. It was widely known in other places outside Japan as Jojo's Venture, and its updated version, Jojo's Bizarre Adventure: Heritage For The Future was done in 1999.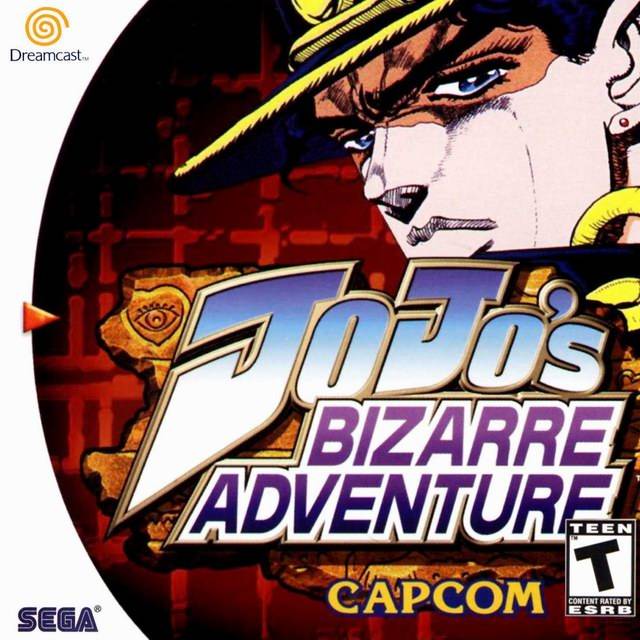 This was the 6th and ultimately the last game to have been released on CPS-3 board. Jojo's Bizarre Adventure is a great game that incorporates the colorful events and characters of Hirohiko Araki's creations and anime-inspired graphics by Capcom.
Apart from that, this game also contains a number of gameplay mechanics that are available in most fighting games by Capcom.
Some of these gameplay techniques include a brand new Stand mode and use of power gauges. In most cases, fighting games dwell around two combatants that are either in a tag team or facing each other one-on-one.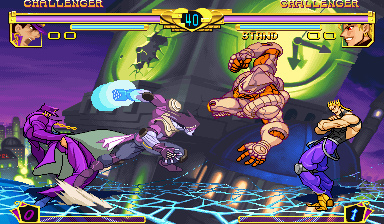 This feature does not miss in these two amazing games that have ruled the gaming markets for a while. Person 4 Arena, for instance, incorporates these styles and therefore requiring the player to control two main fighters in great harmony.
The two main fighters here are the character itself, and its persona, which is basically an imaginative creature summoning guardians to assist fighters.
The mechanics in Persona 4 Arena are very simple to grasp and get adapted to. However, Arc System Works has ensured that players maintain a certain degree of complexity as they try to cope with their pedigree.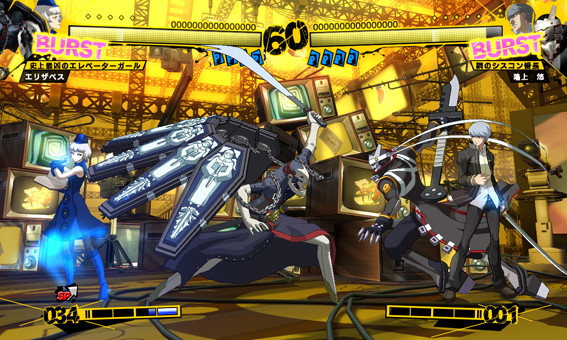 Through this, this game has emerged as one of its own that has very few setbacks. For any fighting game to succeed in this field, the developers must put much stress on the combat mechanic's quality. It is very important.
As for The Persona 4 Arena, anyone who has played the previous series like the Guilty Gear and the BlazeBlue will be familiar with it. The personas are fascinating features that are available in this particular game. These are unique looking warriors who battle alongside the player's avatar. They are basically summoning guardians to assist fighters.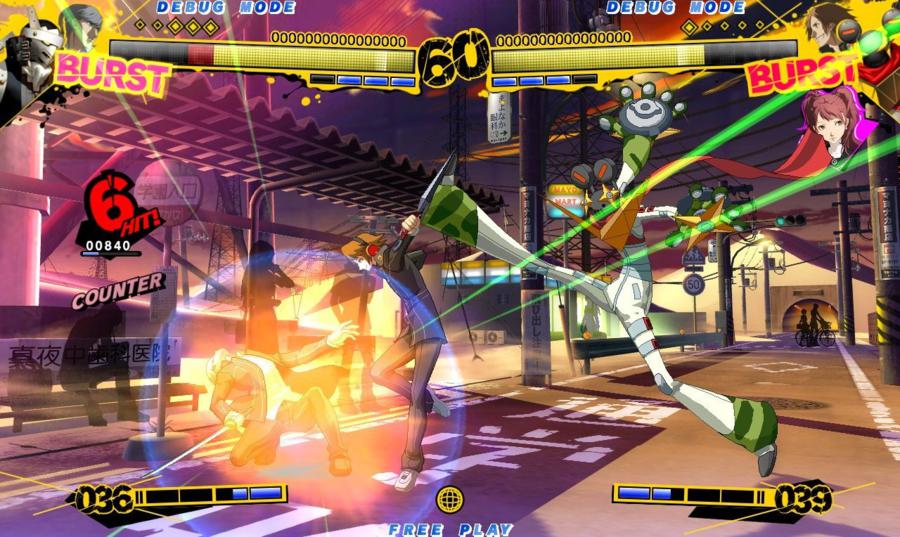 Anyone looking at these characters for the first time will be reminded of the great stands that are available in another similar great game, Jojo's Bizarre Adventure. Even though this could be an apt comparison, certain major differences between the two can be pointed out.
One of the main differences is that most stands in Jojo's Bizarre Adventure were toggled on and off, as compared to Persona 4 Arena where the personas are always ready to offer any form of assistance whenever needed. A persona's attacks are usually termed as situational tools, and they would include projectile or anti-air grapple. The avatars are charged with the responsibility of taking care of the general purpose where they mainly hit the combos and receive compliments from their personas. It brings a new feature to the whole fight between Personas vs. Stands.
In the Persona 4 Arena, there are certain characters like Elizabeth and Yukiko, who depend more on their personas to take care of any form of heavy lifting. One interesting puzzle that constantly changes in this game is getting a balance between persona- and physical based attacks and even enabling the player to use all the fighters he/she has in harmony. But another thing that can be noticed from these personas in this particular fighting game is that they add a unique spectacle to the fight by their outrageous attacks and creative designs.
Just as with the stands available in Jojo's Bizarre Adventures, personas can easily be broken or split in combat especially if they take several hits.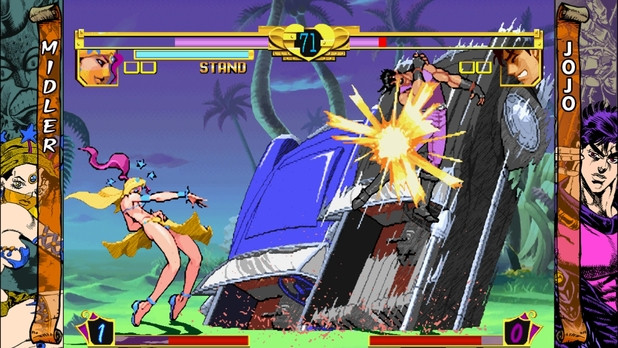 The persona's vitality is represented by four cards that are available below the player's health. The player will lose a card each time a persona suffers an attack. Losing them all can be the hardest thing a player can encounter since he/she will have to wait for the expiry of a brief cooldown before the personas can make a return.
The majority of the cast members in this game also possess special fighting mechanics; some have their massive axes increasing in power as the fights continue. A good example is Labrys in the Persona 4 Arena as well as Aigis who has a particular ammo counter that usually depletes after a major fight. Any fighter who is managing such specific traits will feel at least distinct and special from the rest, and that is a great achievement. This makes Persona 4 Arena one of the most addicting anime like fighting games.
In Persona 4 Arena, players can easily set their fighter's animations so that they can able to block or extend combos especially if there are certain attacks that they missed. This is one technique that adds special flexibility to the combat system even though they might cost certain meter.
The inclusion of the Stands in Jojo's Bizarre Adventure is definitely one of the unique features of the game. These are basically certain forms of powerful projections that are special to each fighter.
Stand also has another mini feature known as Blazing Fists matches, where two stands are brought into a fight with each other, and prompting the fighter to overcome the opponents by mashing the buttons.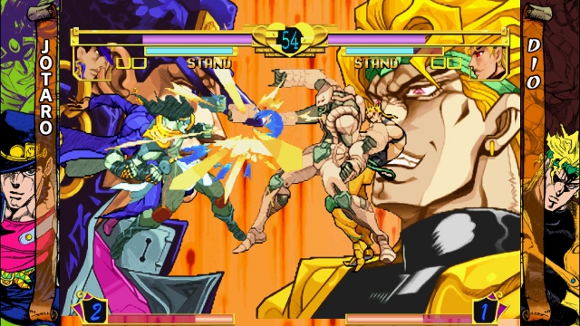 The Challenge mode for Persona 4 Arena is more helpful especially once the player reaches the intermediate stage. It is in this mode that basic moves are introduced for the whole cast. Alongside that, also comes an endless list of advanced but very simple combos. There are also certain practical and shorter combos that assist the player in learning how to play a fighter.
Apart from normal modes like Versus, Jojo's Bizarre Adventure a special mode known as a Story Mode. This is basically a single player campaign that all the characters as they meet and fights other opponents.
As the game progresses, players are treated to very special stages that occur that occur entirely based on various scenes from the manga. Some of these special stages are the side-scrolling sequence. In this stage, the player has to ensure that he/she overcomes a certain type of water-based stand and even identifies who its user is.
That's why it is one of the most addicting anime like fighting games.
The story mode by Jojo's Bizarre Adventure is a special kind of a single player mode that is available exclusively to the PlayStation port of the game.
This particular mode strictly adheres to the story of the manga where the player is taken through a number of fights just as the story moves on.
But apart from that, there are also other mini-games that the player must undertake before he/she can be able to make progress to the next stage.
Persona 4 Arena, on the other hand, provides all the amenities that typical fighting fans can really enjoy and love. Online presence is the best for this game; the ranked matches and player basics are all in the right place, containing all the filtering options and standard rankings. But despite all that, there is one area that does not impress in this game; the replay support. The dedicated replay board has not been done to the standards it deserves. It is just a sort of big list that contains very few filtering options. This setback makes looking for quality and specific matches a nightmare. But online performance in this particular game generally moves on smoothly. This is another area that the players for Persona 4 Arena can easily applaud. It is also a setback the chances of this game emerging the winner in the whole fight of Personas vs. Stands.
Jojo's Bizarre Adventures also has a special High Definition feature that comes with optional online multiplayer and graphical filters. This is another feature that makes this game stand out from the rest, although it is not up to the desired standard.
In the quest for knowing which game did it better between Persona 4 Arena and Jojo's Bizarre Adventures, Persona 4 Arena emerges the winner. This is because it is one of the few fast-paced fighters that anyone can easily find interesting and enjoy even if they are not real fans of the game. This game comes with an auto-combo system, and the combat can be accessed easily when the game begins. However, the complexity of the game is revealed as the intricacies of the characters personal traits and persona are explored. The lengthy story mode of this game will definitely keep its fans intrigued. It is a nice game and an awesome entry point to Arc System Works' catalog of fighters.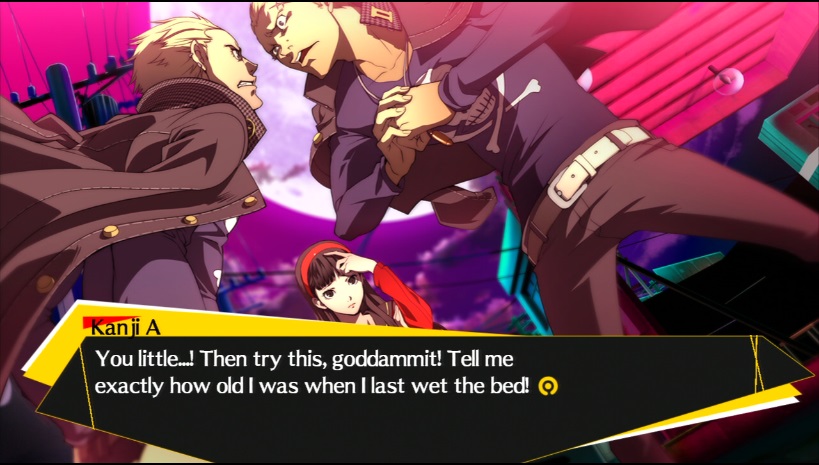 Jojo's Bizarre Adventure and Persona 4 Arena are two great games that have brought a new Personas vs. Stands experience in the gaming circles. Persona 4 Arena, however, appears to have done the best work compared to Jojo's.