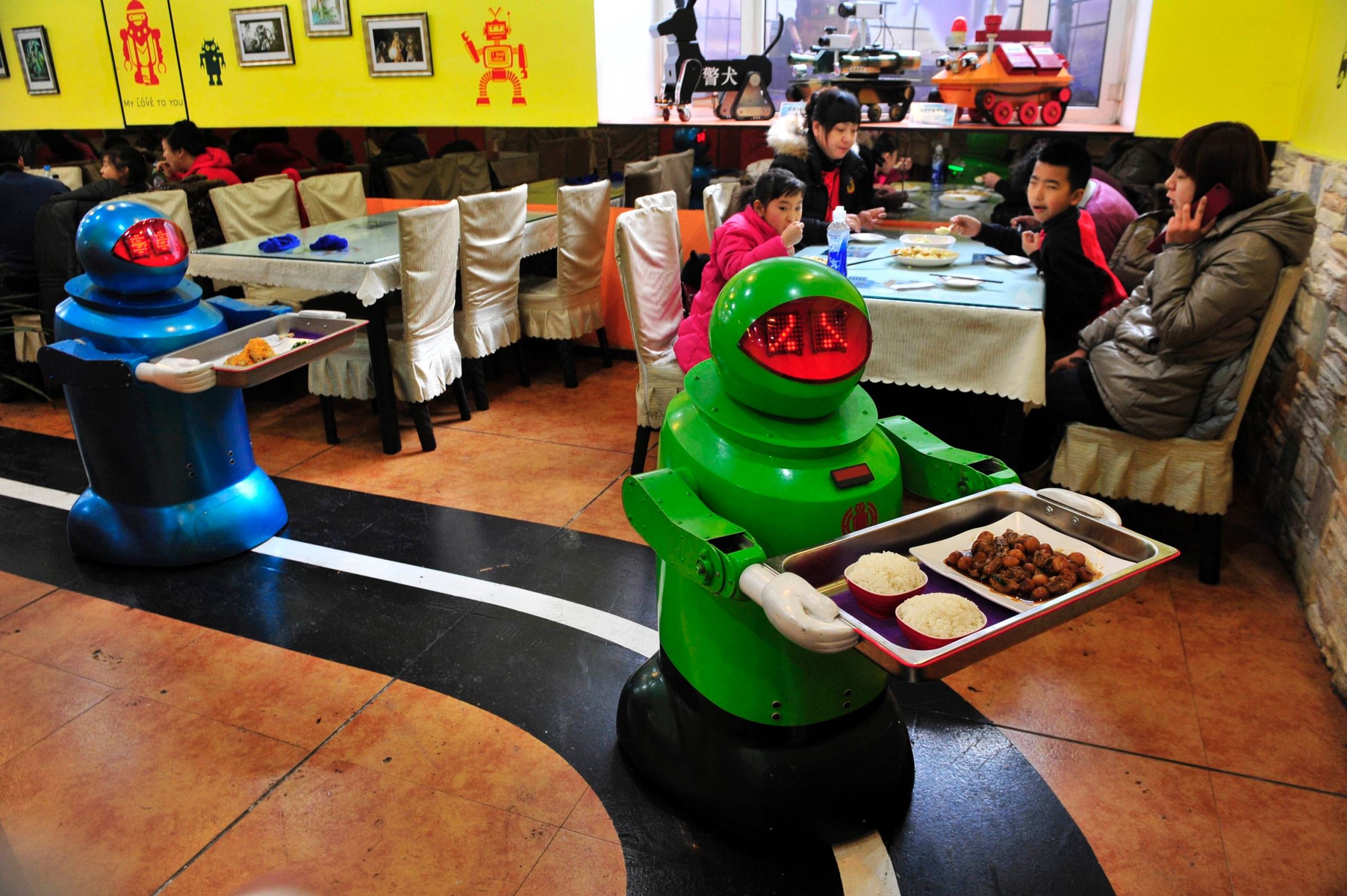 You may have gone to a McDonald's, Pizza Hut, or even an Olive Garden and seen it, the small tablet on the table, or giant touch screen display. In certain locations around America, you no longer order from a human. Everything is beginning to get automated, and it is becoming increasingly more affordable for companies to implement robot assisted tech in place of human employees.
But what remains of restaurants? Usually a waitress or waiter is still bringing you the check, graciously refilling your water, and even grating your parmesan or cracking your pepper. The question isn't whether or not robot assisted tech will replace your waitress, it's a matter of when. How long will it take before robots and machines are waiting tables?
Actually, it's already happening. In Asia, Pizza Hut now has humanoid robots taking orders, walking around. Pepper, as he is suitably named, can respond to tone of voice, gestures and expressions. Created by the Japanese software company SoftBank, Pepper is able take orders and process credit card payments.
From Business Insider,
"Chinese restaurants started to replace their workers with robots as early as 2006. Though some have proven pretty incompetent, they're still cheaper than human wait staff."
And with the cost of technology declining rapidly, the robots are actually far cheaper than their human counterparts. It costs on average just one month's server salary to acquire a robot, which are fun and attract customers.
And of course, robot waitresses are devoid of all the human flaws that sometimes make or break a restaurant's reputation. They could never get mad, have attitude, or tamper with your food, and they certainly wont complain about the tipping amount on social media. Technology is becoming more advanced and the human workforce will not be able to compete on a long enough timeline.
The question is whether or not human employees are needed for a comfortable restaurant atmosphere. This aspect has more to do with society's adjustments to changing technological trends and less to do with the efficiency involved. From a business standpoint, robot assisted tech is a no brainer.
In fact, research from Cornell University states that turnover rates and customer spending actually increases when the robot staff is implemented.
It appears there are some setbacks, some of the robots still are not able to place food on the tables themselves, and of course they do not process extra orders or interact in all the ways a human possibly good. But eventually the robot assisted tech will be far more advanced, if not complete indistinguishable from that of a human. And think of all the free manpower and brainpower that would be freed up if some of our best and brightest had no need to wait tables.
Eventually we will begin to automate the most menial parts of the workforce, and this will allow us to divert our focus onto more urgent endeavors. Robot assisted tech is going to change not only the world of eateries, but is one of the fundamental parts of journey into the future. Replacing waitresses is just the beginning.