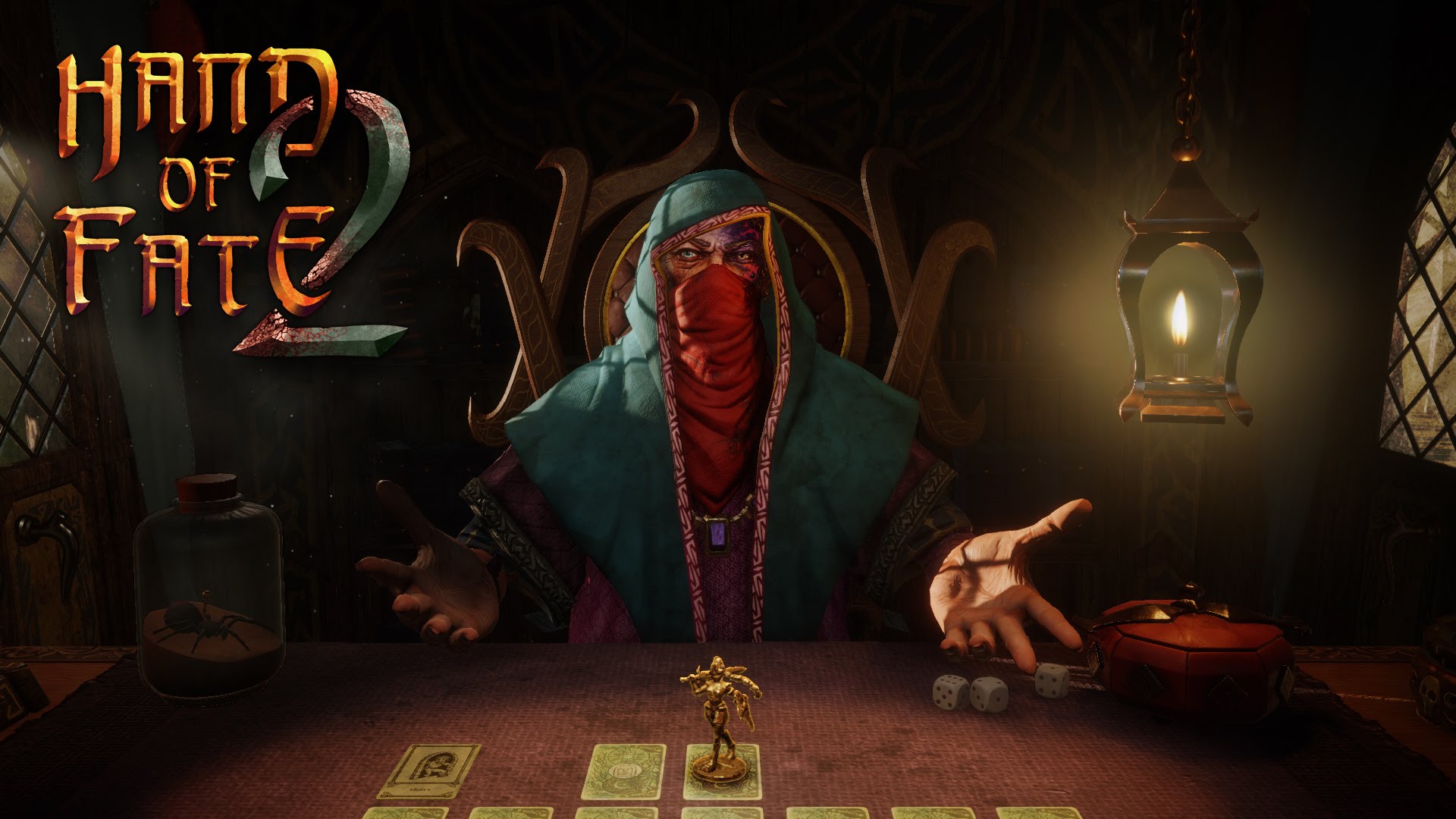 Hand of Fate 2
Just like the first Hand of Fate, the sequel is made of many cards. With 22 challenges, there's an immerse world to dive into. Gamers must solve objectives and adhere to the rules.
While it appears to be just a digital form of a board game you might play on a lazy weekend afternoon, Hand of Fate 2 is a unique take on what will soon be the future of board game entertainment. Player's must move their respective tokens across the cards, unveiling opportunities for collecting gold, food, various items, or even having to fight. In a way Hand of Fate 2 was ahead of its' time, as the realm of augmented reality is now bringing a similar animated card game to our very own living rooms.
Game play wise, Hand of Fate 2 is great. The robed Dealer is back, and his witting, almost mocking comments add a good bit of life to the atmosphere of the game. What is clear is that Hand of Fate 2 appears to have better storytelling than the first game; the adventure is narrated by the Dealer.
Outcomes are determined by battles, dice throws (a new addition in the Hand of Fate series), and cards, which, as the player progresses, has the opportunity to collect more and more, building a more personalized deck. The Dealer's deck will also evolve as the game progresses, and most of the obtainable cards offer a nice balance of risk to rewards.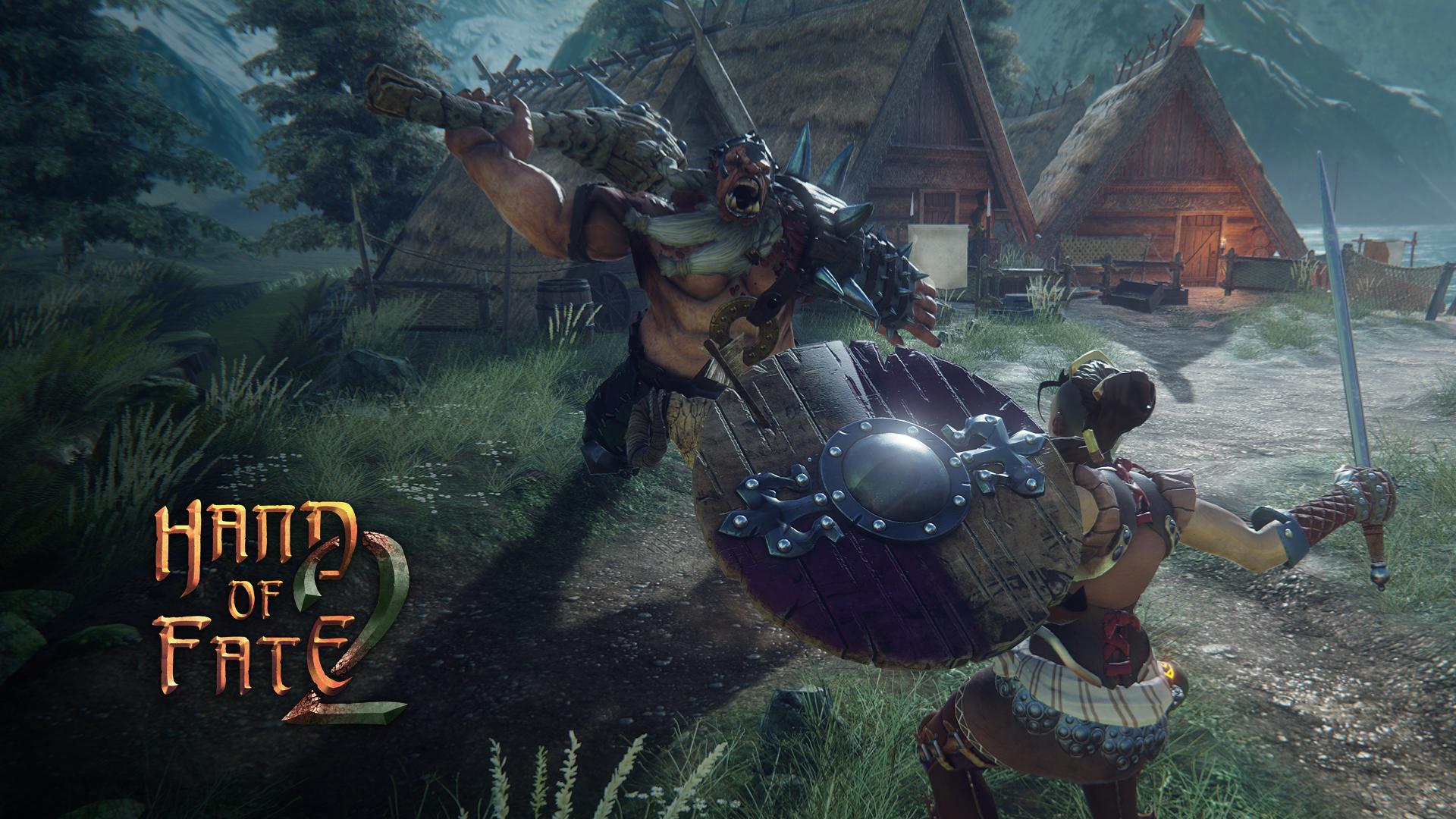 The storyline will branch off with each challenge, and the cards, objectives, and rules are unique per these offshoots. Players must gather resources and strategically plan as they work with the variables set by the cards in play. This could be anything from defeating dungeon bosses and warding off hordes of enemies, to discovering loot and dodging traps.
There's some new additions Hand of Fate 2. There are now two handed and dual wielded weapons, as well as new enemy types and companions. There are four companion cards, unlocked throughout various stages of the game. Each one is unique and incredibly useful, and each has a compelling back story, tied effortlessly to the stories of the other cards.
The combat hasn't improved much this time around. The game shifts itself so that players control the actions in third-person. Although the game play itself is exciting and challenging, it would have been nice to see some new combat elements put into Hand of Fate 2. There are more enemies to fight though, and the new weapons make for a good shift in the flow of the fight. However, you'll still just be blocking or evading attacks. On a positive note, the animations and details of the combat scenarios look beautiful.
So although the combat isn't as finely tuned as it could be, Hand of Fate 2 has plenty of content to make up for it. The storytelling is immerse, and the Dealer's new and improved self is highly satisfying. The strategic elements have clearly been ramped up, and the new challenges and variables make for an extremely enjoyable card game experience. Hand of Fate 2 still feels very much like a classic game of Dungeons & Dragons, and this sequel is very much worth a play though.
Darkest Dungeon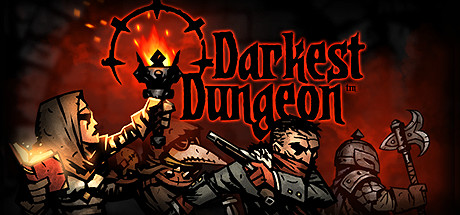 Darkest Dungeon is another game strongly influenced by Dungeons & Dragons. With a minimal plot, and a truly creative, downright sinister environment, it's no secret why Darkest Dungeon earned the Original Role Playing award from the 2017 National Academy of Video Game Trade Reviewers.
Darkest Dungeon is more or less a dungeon crawl. Players must work on discovering the horrors and mysteries of the dungeons, while also participating in some bad ass turn-based combat. Money and resources gathered along the adventure can be used to fuel more journeys into the unknown, and characters of numerous classes can be recruited to aid in this discovery.
The combat in Darkest Dungeon is gorgeous. Each character is highly detailed, in a unique way that is both unique and smooth. The mechanics are turn-based. Abilities are determined by how the gamer arranges their party, and enemies' placement influences what can occur in each battle as well. Skill sets include speed, dodging, and protection. What's key for succeeding in the combat is the placement strategy, gamers must begin to think tactically if they want to win.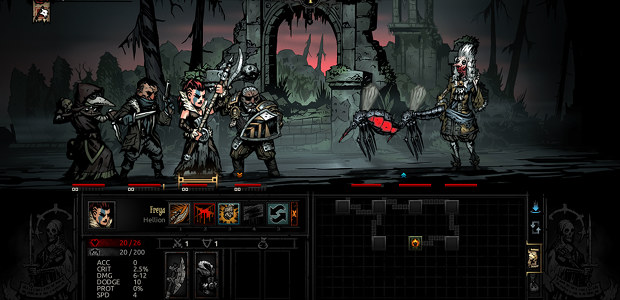 Darkest Dungeon's fights require players to balance their management of not only hit points, but a stress meter which increases as each character experiences painful moments. The more stress a character has, the less effective they become. They might not pull a dodge from an enemy attack, and their personal stats will falter over time. Which goes into the amazing character development with Darkest Dungeon.
Each character comes with traits that ultimately develop over the course of the game. For example, a character with effective speed stats may become encumbered by negative attributes. These can be remedied by numerous activities such as drinking, praying or simply resting. Like most RPG games, abilities, armor and weaponry can be upgraded. Although Darkest Dungeons makes this aspect challenging and time consuming. Characters do not level up in the traditional sense, and the more levels they gain requires them to go on more challenging adventures. It's a bit of a work around, so if players want to finish up some low level tasks they'd have to switch up their party.
All in all, the game is beautifully designed with unique artwork and animations. The complexity and necessity for tactical strategy makes Darkest Dungeon one of the most addicting and challenging dungeon crawlers available. It's as expressive as it is challenging. Without a doubt a highly playable game.
Hand of Fate 2 vs. Darkest Dungeon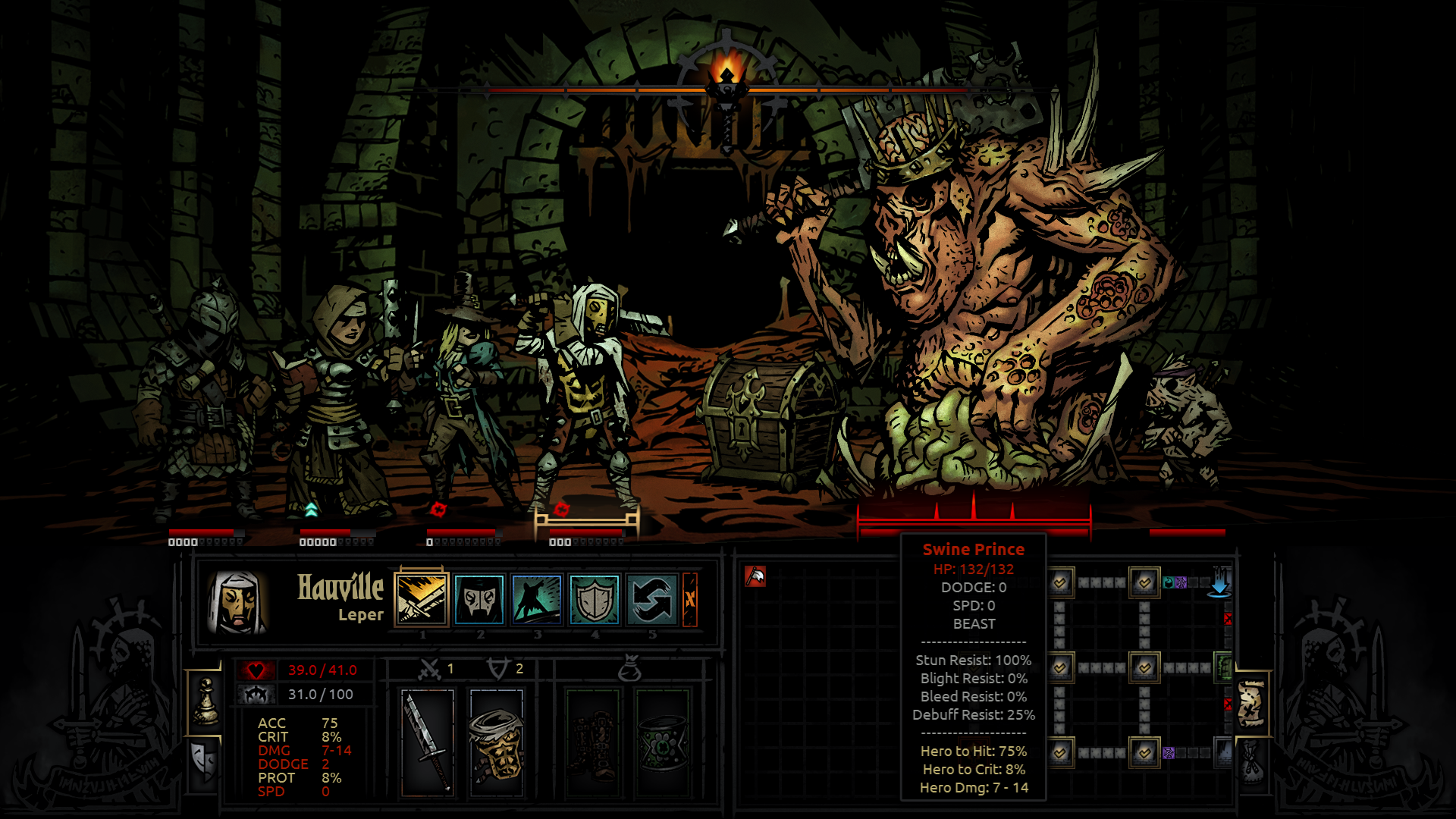 Darkest Dungeon is the clear winner here. It's an excellent blend of unique game play and artistic creativity, executed carefully and precisely. Darkest Dungeon is more rewarding than Hand of Fate 2, but these rewards come at the cost of hours of strategic planning, management and downright punishing game play. Given that both games were inspired in part by Dungeons & Dragons, players will get more of that nostalgic feel with Darkest Dungeon. This is not to say Hand of Fate 2 isn't an excellent game, but the appeal for Darkest Dungeon is geared more towards mature gamers and true role playing fanatics.