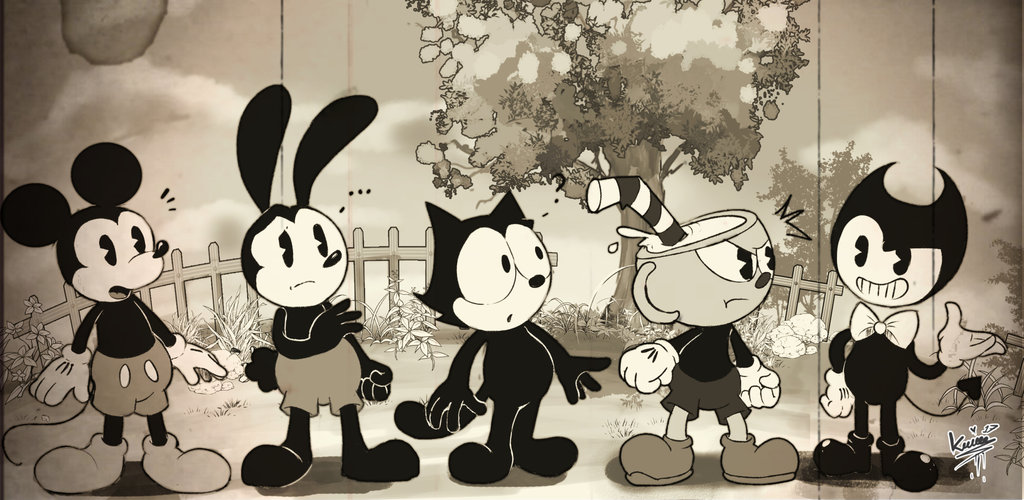 Indie games have never looked so classically cool. From StudioMDHR Entertainment comes Cuphead, a run-and-gun indie platformer with some seriously unique (and retro) art. The artists were heavily inspired by the animation and look of the 1930s cartoons, and this is the style ever present in the game.
Cuphead features a branching level sequence, and with continuous boss fights, co-operative mode, infinite lives, and the ability to keep weapons after death, the game has a lot to offer.
Cuphead isn't for kids
While the animation of Cuphead certainly is cute and cuddly, the gameplay itself is an entirely different ballpark. Players take control of Cuphead, who essentially looks very similar to an early rendition of Mickey Mouse. The goal is to "Run 'n Gun!" through the enemies from left to right, shooting blasts of energy out of Cuphead's fingers. The enemies all move in patterns but they come at you in heavy supply, so be careful.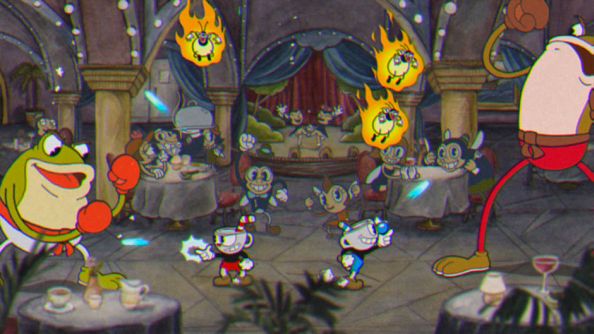 It's good that the game comes with infinite lives, because you'll need them. The boss fights are especially difficult as well, and there doesn't appear to be any checkpoint system throughout the levels. Gamers will get three tries before having to start at the beginning of each stage.
Is Cuphead inspiring to be Mickey Mouse?
One thing that stood out immediately is the old-timey cartoon aspect of the visual design. Cuphead looks very similar to an old Mickey Mouse cartoon. Other critics have added Popeye and Betty Boop to the list of inspirable sources.
Some have said that Cuphead was inspired in part by the Mickey Mouse game, World of Illusion, which came out for the Sega Genesis in 1992. While it certainly is evident that Cuphead resembles Mickey Mouse, the games are very much different art styles. Cuphead is way more old-school, and World of Illusion does have decent graphics given the console, but World of Illusion is cast more in the actual Disney universe, whereas Cuphead has the freedoms and fresh animations of an indie title. Both games feature platform elements and co-op gameplay, but a clear line of inspiration is thin at best. Cuphead is a revolutionary addition to the platforming genre.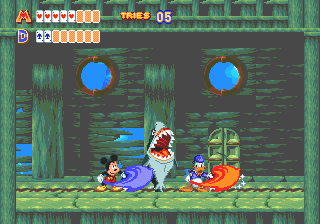 But don't just take it from us, Cuphead is receiving some pretty positive reviews thus far, winning the Best Xbox Won game at E3 in 2015, 5/5 star ratings from GamesRadar, and 9.5/10 from Destructoid.
It's true, Cuphead looks like a bit like Mickey Mouse because the developers, specifically Chad and Jared Moldenhauer, intended the art style to mimic the works of Fleischer and Disney. Fleischer was responsible for bringing the world Betty Boop and Popeye, and Disney of course is well known for the multitudes of cartoons they've given to the world.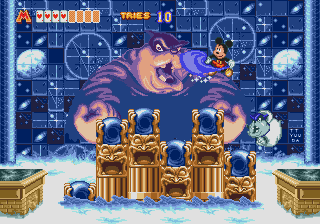 The animations and backgrounds of Cuphead are hand drawn. This makes for a pretty interesting combination with the 60 FPS frame rate the gameplay offers.
Cuphead's producer and artist Maja Moldenhauer had this to say of the development process. "The gameplay came first. "Chad and Jared grew up playing an obscene amount of video games. The art style came second. We knew it was going to be a cartoon-based game, and the aesthetics from the 1930s really stuck. We married those two together, and that's Cuphead."
Short and sweet, and ever observable in the game itself. Cuphead looks and feels like were are no longer gaming, but writing our very own retro cartoon episode. Apparently the developers tried a number of different cartoon based visuals, but landed on the 1930s style due to the animation process.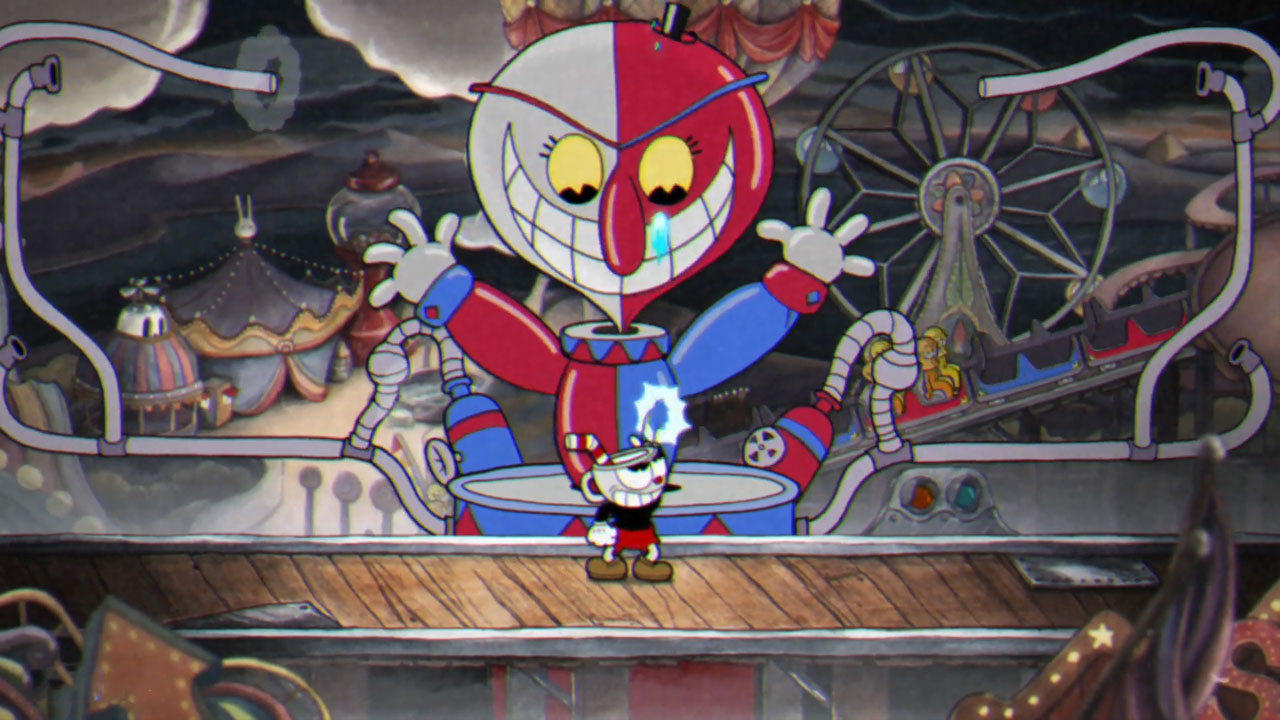 Digital animation is phenomenal, quick and efficient, but it has drawbacks. On the development of Cuphead, Moldenhauer explains, "It was done digitally at first but we could never nail the look of what we were seeing in our minds. We said OK, what the heck — let's try it the way that they actually did it back in the day and all of a sudden it just came to life. The movements were fluid, everything had life to it and was constantly moving."
The game was animated at the same frame rate of the old-school cartoons, 24 frames per second. The coloring was done digitally, Moldenhauer mentions, "There was no visual difference coloring it digitally versus painting it. We thought, let's save ourselves a lot of years and a lot of money. It gets scanned in, colored digitally, aligned and inserted into the game."
The gameplay is smooth, unique and captures the essence of the old-school era. And much like the old Mickey Mouse episodes, the creative process for a game like Cuphead can be painstakingly brutal.
On hand-animation, Moldenhauer states,
"Hand-animating was probably a stupid call, because it's been a labor of love, for sure. "You don't have a quick undo button. You're sitting at a desk with pencil and paper. If you mess up a line, you start again. It was the best decision we made. We wouldn't compromise the way it looks now in the interests of time by doing it digitally."
It certainly has taken its time. Cuphead has been in development for nearly eight years, and has seen many mock ups and versions. The Moldenhauer brothers went through a few trial and error runs with other games first. Eventually, it came down to designing the protagonist,
"He was a little green blob with two tiny legs at first, then a fly. One idea was a bendy fork with legs and arms. It was completely different, not just 'should Cuphead have ears?'" she says. "A lot of people keep saying, why Cuphead? But why not?"
The nostalgic visuals of Cuphead in combination with the gameplay has given Cuphead some serious attention. This art style is something gamers have not seen in quite a while. The developers are anticipating a positive entry into the gaming industry and are prepared to build off of the success of Cuphead,
"We're not tied to the 1930s art style," Moldenhauer confirms. "We would definitely play with other eras and styles. The Fifties is a big one, and I really love the mystical and magical style of Fantasia. The brothers have another one in mind but I'm not sure if I'll be allowed back if I say it!"