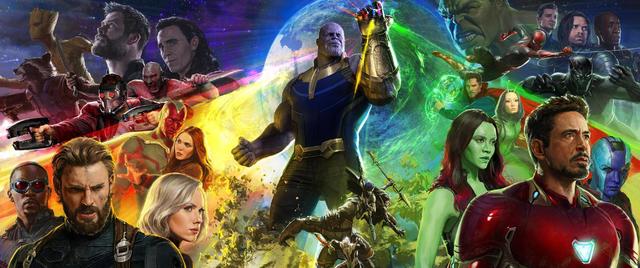 In terms of Marvel and the Cinematic Universe, Thanos has yet to make much of an impact. He was briefly featured in The Avengers, but most fans would hardly consider that memorable. The future is looking bright for him though, with minor appearances in the space pirating blockbuster Guardians of the Galaxy and Avengers: Age of Ultron. Looking forward, we can expect Thanos to take another shot at the cinematic universe with the upcoming Avengers: Infinity War film, set to be released sometime next year.
Whatever the case may be for Infinity War, Marvel has many options when it comes to making Thanos a memorable villain. As you very well may know, Thanos is an extremely powerful individual, and that's without the Infinity Gauntlet, a gem-filled power glove-type item that increases Thanos overall powers. He has been in the Marvel comics for over three decades already, hopefully Marvel can pick the right combination of scenes to include in the live action film.
Here are a few ways that Marvel could make Thanos unforgettable.
Make Thanos as Crazy as the Comics
Thanos has fought enemies that would easily defeat him. And yet, Thanos has the insanity or arrogance to fight them. Take the fight against Galactus as a clear example. Galactus is known as the Devourer of Worlds, he literally consumes planets to sustain himself. For some reason, this never stopped Thanos from battling against the giant, with or without his Infinity Gaunlet. And this part of Thanos would make for an entertaining character and even some pretty epic battles.
This type of arrogance is a favorite of audiences, so long as it is correctly written. The super powered character who overconfidently steps into a sure fire defeat is comical and slightly similar to how we all feel at times.
Avengers: Infinity War Should Have a Lot of Thanos
Thanos will most likely make a major debut in the film, as it is set to follow the storyline from the Infinity Gauntlet comic series. In the comics at least, we see Thanos hastily collecting all six of Infinity Gems.
Furthermore, Marvel could make Thanos memorable by including some amazing fight scenes. Fans of the comic have seen Thanos duke it out with the likes of Wolverine, Spiderman, Captain Marvel, Star-Lord and the Avengers. Marvel does fight scenes very well and we'd expect nothing more than some sweet destructive action. Especially since we can only assume Thanos will be wielding the Infinity Gauntlet.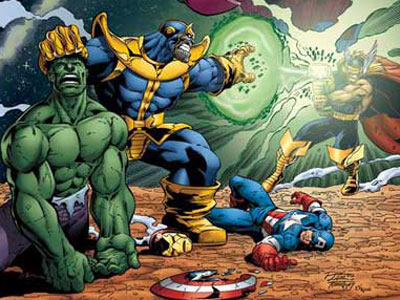 But Marvel might need to change up the original Thanos storyline. Thus far, nothing could really overpower the Infinity Gauntlet. Nothing audience's have seen from the Marvel Cinematic Universe can cancel out the power of the Gauntlet, so it will be interesting to see how Marvel works around that.
Keep Thanos Around for Future Releases
Since Infinity War is centered around the Avengers and the six Infinity Gems, we will no doubt be seeing a lot of Thanos for the first time. And there's quite a bunch of possible scenes Marvel will show us on the big screen. However, Thanos needs to be in more than one movie for him to become memorable. He isn't the most popular of the Marvel villains, but he will still draw plenty of crowds to see the new movie.
Thanos has been defeated before, and you're already familiar with some of the victors. Star-Lord is noted as beating Thanos by utilizing a cosmic cube, which explodes and knocks Thanos out cold. In the live-action movies, Star-Lord is played by none other than Chris Pratt, who makes an excellent comedic character out of the Guardians hero. Groot has also beaten Thanos, with the basic punches and generalized Groot-ness that audience's love.
We've also seen the Captain Marvel, Iron Man, and plenty of other Avengers defeat him as well. What Marvel ought to do is combine all of the Avengers together so more than one person defeats Thanos or vice versa, have a movie where Thanos is the victor. It is far too common now-a-days for super hero movies to have the same basic storyline and arc. If Infinity War and Thanos are to be anything memorable, we will need something unique and new from the Marvel studios.