| | |
| --- | --- |
| Posted by Jason on August 31, 2017 at 8:30 AM | |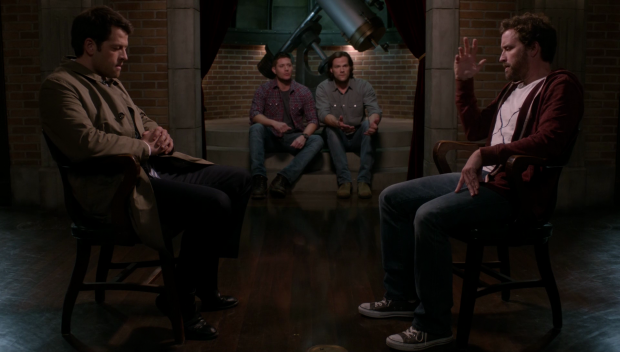 A lot has been said about Chuck and his relationships with his sons, the archangels Lucifer and Michael, but was he really that bad? So in the beginning Lucifer was Chuck's favorite son, he created him to be the most beautiful, and not only that he considered him strong enough to bear the Mark of Cain. But, and that's a big but, Lucifer just didn't care for humans. Chuck commanded him to love them and he just didn't. No big deal right? Wrong, Chuck ordered Michael to cast Lucifer into Hell, creating a cage to hold him and making it impossible for the archangel to escape. However he eventually did escape and Chuck has inadvertantly brought about the apocalypse, due to the strong sense of betrayal that Lucifer felt. So at the final battle Chuck had ordered Michael to kill Lucifer, now that's pretty bad parenting if I may say so myself, commanding your one son to kill another?
Thankfully Lucifer was never killed by Michael and was instead imprisoned again! Lucifer blamed Chuck for making him the person he was today, Chuck never batted an eyelid over such a strong accusation, nor did he express any guilt or regret that Lucifer was imprisoned once again, this undoubtedly shows he just doesn't care about his son. When they have a reunion for the first time in an eternity, Chuck reluctantly apologized for picking favorites and they joined together to fight Amara. But once again Chuck completely disregarded Lucifer's feelings. When the fight against Amara was over and God leaves with Amara, he left Lucifer behind, who felt used and abandoned. Definitely not the actions of a loving father!
Now onto Chuck's relationship with Michael, Michael was Chuck's firstborn son and was always eager to please, desperately craving the approval of Chuck by doing whatever he felt Chuck wanted. I mean he even cast his own brother into hell because Chuck told him to! Well shortly after this, Chuck upped and left heaven without a single word! Leaving Michael to run things, a bit of a big responsibility to thrust onto your son right?
So when Michael thought that the apocalypse was meant to happen, as per usual he just wanted to make Chuck happy so he let it be, even going as far as punishing any angel who disagreed. When he confronted Lucifer at the final battle he began to fight, once again thinking it was what Chuck would have wanted, this fight was interupted by the Winchesters and Michael found himself imprisoned in Lucifer's cage, where he remains to this day! That's no way to treat your firstborn son, the son who lived his life trying to please you and do everything you asked.
It's fair to say that there is vast amount of things Chuck could have done to be a better parent to both Lucifer and Michael, it seems that Chuck doesn't really care for his sons and instead sees them as pawns in his game. I mean he could of done without imprisoning his own children, or getting them to fight his battles for him right?