What is Final Flames 2?
Final Flames 2 is a free game with a silly story developed solely to express its developer's love for arcade games. The game primarily uses the elements of beat 'em up games and fuses them with what makes anime fighting games great: the freedom of combos. The game offers many options for the player to have freedom on creating their combos. One of the core concepts of beat 'em ups is to have a button that performs an auto combo. Final Flames 2 expands on that, allowing the auto combo to be cancelled into any other move, such as smash attacks and magic spells. The combo system is generally very easy for the players to learn, as many commands can be performed with a push of a button. Along the way, players will naturally learn more about the system, expanding their skills through jump cancels and dash cancels. These combos will reward the players with a tasty meme complimenting their performance. Who can deny how awesome is that?
Why are combos important in this game?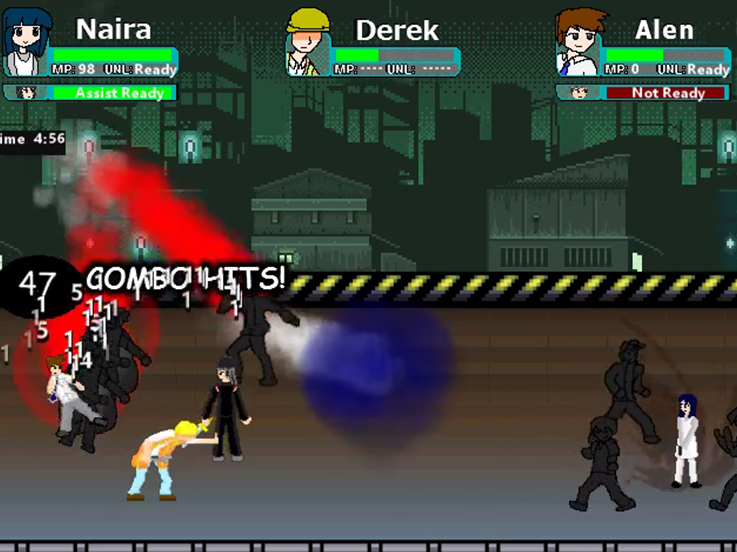 Combos can be expressed more freely by players in this beat 'em up, as this game category is perfect for it; beat 'em ups generally have player characters stronger than the hundreds of enemies they have to fight, where fighting games have to ensure that the roster of characters are balanced within each other. Not many beat 'em ups have taken this path, as their combo system is dependent on a flow chart of button presses. But it does not end there. Assists are not only able to make difficult situations easier, but also extend the player's combo. These assists are inspired by the Marvel VS Capcom series, where the player can summon their partner any time to throw out a single move. Generally, Final Flames 2 is a fast paced beat 'em up game that will always keep your blood boiling in the action.
But what is this game even about?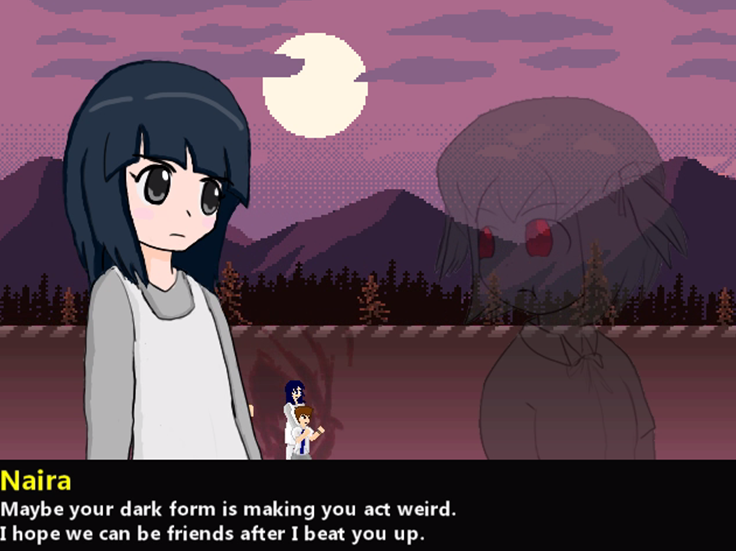 The game features four young, ordinary people to play as, just like you! They just so happen to find a few tools that happen to help them fight and cast spells. Their mission is to solve the incident of their missing friend, who so happens to be the new commander of a dark force they fought years ago. Each character possesses different abilities and skills, and the player can change their characters at any point in the game. This not only allows the player to have an experience of each character in one playthrough, but also expands the possibilities of the player's combos. But most of all, this helps spotlight the theme of the game, which is teamwork. By being able to switch to any characters, players are able to switch characters that are best in a certain situation. The game is over when every character dies, making it important to keep track of revives.
Who might these young fighters even be?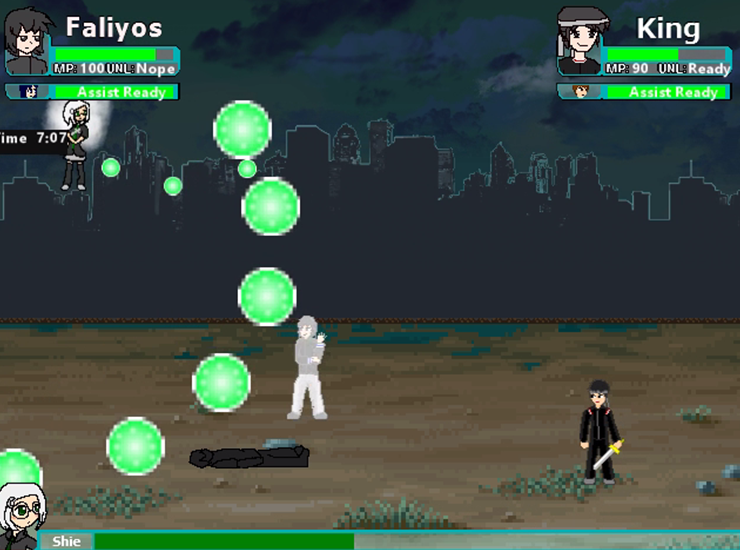 The player has the choice to pick between King, Naira, Faliyos, and Alen. King is the leader of the team, who always aims to be the city's swordsman hero despite being an average guy in college. To be a hero this time, he tries to save his friend Jonnel from the hands of the evil forces invading their city. Unfortunately, he and his team are unaware their friend is the new commander of the dark forces. How then will they cope with it when they have to fight him in the end? Perhaps Naira can't! This girl has been stalking Jonnel since the day they met and is hopelessly in love with him. How then will she comprehend this dark secret? Or perhaps, maybe she has a dark secret herself. But maybe not as dark as Faliyos, the handicapped lefty, struggling to maintain himself financially! As his days of becoming homeless, he decides to join his friends to have a thrill of the fight before he goes down in despair. But maybe his victory might bring him the fortune he needs. Everyone has the drive to fight, except for the last guy Alen. He got dragged along by his cousin, King, but maybe he will learn more beyond his title as a black belt in Taekwondo. But it does not end there! As you travel with these fighters, you will also find other people who struggle to survive in the battlefield! Helping them will guarantee you an ally to fight along with in battle!
Awesome! Let's give the game a try!
No matter which character you pick, you will definitely have a fun time. Each character has their own story, so you can pick whoever you think will deliver the silliest backlash of every boss's dialogue! The game is short and spans through seven stages, making it the perfect game to play for a short break!
But did you know that this was a project started in 2011 by bored high school students? Initially, the game had five people who wanted to improve on their middle school project, Final Flames 1. Unfortunately, the file was lost a year later and was not discovered until 2016. Though the group of five people has disbanded from Lame Dimension, ChairGTables pushed to have it completed by herself. After about a year of slow progress, with very long breaks in between, she shaped the game in the way where she could express her love for the fighting game community and the silliness behind meme culture.
Game Trailer: https://www.youtube.com/watch?v=hmSGJIlTKUI