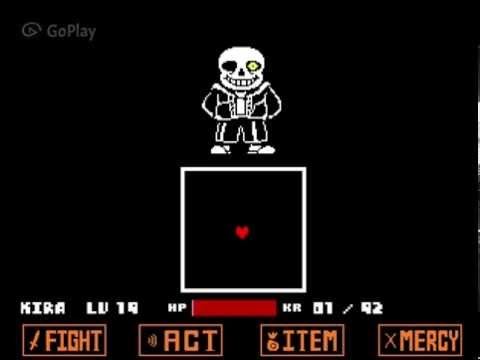 In video gaming, sometimes a fun battle is dealing with a hard boss battle game. When you play a video game boss, you really have to learn how to control the enemy – but you can't! Remember, a boss is a computer controlled enemy and whether this is your first boss battle or your umpteenth boss fight, each level will bring new challenges and technical skills that you need to get through the game. While we know that fighting a really strong enemy can wear you out, learning how to fight in a boss battle can help you get from one stage to the next – and that's why we love them so much!
The Boss Battle in Sans
In the boss battle in Sans, you're facing an ememy that's bigger, stronger and more powerful than you. It takes time to know the right approach so try to take a few tips from this hard boss battle so you can try to defeat it the next time you play.
Requirements: Special skills will be required to defeat your enemy, strategies to focus on his weak points include good memory recall and focus on the tips below to help you avoid certain attacks. So let's get started...
In the Sans game, this can be considered a really hard boss battle if you can handle a genocide run! There is absolutely no way that you can beat this boss on your first run. You will have genocide within maybe 40 tries? If you do manage to defeat him with all that he's throwing at you, you will get more power and that's totally awesome! Another great reason why this game is so addictive/fun! Remember, the game Sans is meant to try to make you give up. You have to push through with determination. Don't get frustrated because you keep dying repeatedly. But you're not an average player.
You know you've beat Undyne and gotten through all the other levels. Once you get to Sans though, remember, its going to be challenging. On Undyne, you can try to beat her and you might. But Sans is the Flowey of Genocide, so be prepared to die again and again! Just saying, this is one tough game! Even if you get together with your friends, you might not be able to get through Sans, but try these pointers…
It's all about the memory - so pay attention!
Sans is all about memory. Remember the movie with Tom Cruise, "Live, Die, Repeat"? It's kind of like that where you will die early on – a lot! Don't let that stop you. You have to keep track of your game play. As you get farther along, pay attention so when you come back you can go a little bit further the next time. It is brutal and it took one of my friends 5-hours to get through. Yup, that's determination!
Now here's the thing, try not to mess up an attack or you may have to take 60 damage in a second, or something to that affect and you'll be poisoned. The max health you can have is 99, but a lot of people don't know this. The guy has 1 ATK but your game will be over in 2 seconds, so pay attention. The other thing to be on the lookout for is that he will attack when its your turn and you literally have to break the rules. So you may not be able to hit him at all for may the first 20-30 times? While Megalovania plays, just keep count and remember to memorize your game play so you can go further next time.
Look for pattern changes and he cheats and attacks at any time
His pattern will change slightly. Make sure to watch for this. My friend said that in one of the attacks there were a lot of variants. Don't let yourself get frustrated because this is one of the hardest bosses you will face. It makes for an interesting battle so if you're playing with friends, keep track of how long it took everyone. Some people get it in a few hours – while some get it in a few months! Yup, we said it. He will also talk to you during your fights. He's tough. He'll hit you in the menu, he moves if you try to hit him. He will beg for mercy then he will attack you. He'll dare you and taunt you. Seriously? WTF is wrong with this boss?
By the time you get through – if you do, you'll agree that this is one of the most interesting boss battles you've ever played! Next!